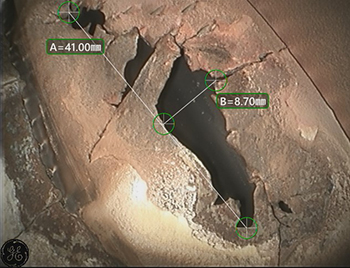 Global Engine Support (GES) borescope inspections are carried out by our team of highly experienced power plant engineers. Our customers are confident in the knowledge that their inspections are performed to the highest level by the GES team.
GES perform the inspections, both on and off wing, at your requested location worldwide .We are certified to work on all major engine/APU types in popular use today. Please see our capability list below.
As you know the highest quality borescope inspections are vital to maintaining the health and reliability of your engine. With this in mind, GES, as standard compile a detailed review of your engine condition together with a clear digital recording of the inspection for your records. Our experienced engineering team will also provide further recommendations on how best to maintain your engine condition and performance.
At GES we use only the most professional and up to date borescope equipment available thus providing the highest quality images with the most accurate measurements possible
We hold a EASA Part 145/FAA approval to perform engine borescope inspections.
Engine Capabilities
CFM56-2/3 series
CFM56-5 series
CFM56-7 series
Rolls-Royce Tay series
Rolls-Royce RB211 535 series
Rolls Royce RB211 Trent 700 series
Rolls Royce RB211 Trent 800 series
Rolls Royce RB211 Trent 1000 series
General Electric GE CF6-80 series
General Electric 90 series
General Electric Genx 1B series
Pratt Whitney 2000 series
Pratt Whitney 4000 series
International Aero Engines V2500 Series
International Aero Engines PW1100G series
APU Capabilities
Honeywell GTCP 331-200 Series
Honeywell GTCP 331-500 Series
Honeywell GTCP 85-129 Series
Honeywell GTCP 131-9 Series
Hamilton Sundstrand APS 2000 Series
Hamilton Sundstrand APS 3200 Series
Hamilton Sundstrand APS 5000 Series
---